Serious work goes into finding an SUV for sale near Walkerton that has all the right features and opportunities to get you back on the road without compromise on your driving dreams and feature preferences – and at Hanover Chrysler we want to ensure you have the support to make those decisions with confidence that connects you with the right vehicle for your specific and personalized needs. Whether you're the sort of driver that wants an SUV that can handle the rough trails and the cityscapes, or you'd prefer to have the efficiency and the space to keep friends and family comfortable on longer trips – there's a model that will match your needs when you choose Hanover Chrysler. Let our dedicated professionals get to work helping you review our preferred SUV models – like the Jeep lineup with the Renegade, Compass, Patriot, Wrangler, Cherokee, and Grand Cherokee vehicles to choose from.
Then we have the exceptional value of the Dodge brand with the award-winning crossover in the form of the Journey – or the full-size Durango. Whatever your needs might be – there's going to be a great selection of SUVs for sale when you choose to work with the experts at Hanover Chrysler. Let us know what you're looking for and we'll be quick to respond with actionable vehicle lists that you can test drive and then take home. We want our customers from Walkerton and beyond to have the peace of mind that comes from a tested-and-true dealership home that aims to make you feel like family. Let's get you the SUV that has the look, the driving feel, and the overall experience that sets itself apart and rewards you every time you head out on a trip, a chore, or an adventure!Hanover Chrysler is located at 664 10th St, Hanover, ON, N4N 1R9, and our representative can be reached at 1 (888) 910-8980. Find your next favourite vehicle today – with experts that care about you!
Impressive Inventory and Resources to Enjoy
A Small-Town Dealership near Walkerton with Big City Opportunities!
Here to Make Your Life Better
Experience the Advantage of Working with Professionals – Today!
Active Part of Our Community
From Local Events to Sponsorship of Sports Teams and Donations – We're Here for Our Community!
Why Choose Hanover Chrysler
An Incredible Lineup of SUVs for Sale at Hanover Chrysler
Choosing a Dodge is always going to be a positive experience – with the value that these vehicles bring you're going to be on the road for years and years to come. With the Journey – you can choose between FWD and AWD models, 5 or 7-passenger seating, and I-4 or V6 engines. A huge versatility to ensure you get what you want and what you deserve from this incredible brand. Then you have the full-size Durango, with award-winning and best-in-class features that will impress and entertain for years to come.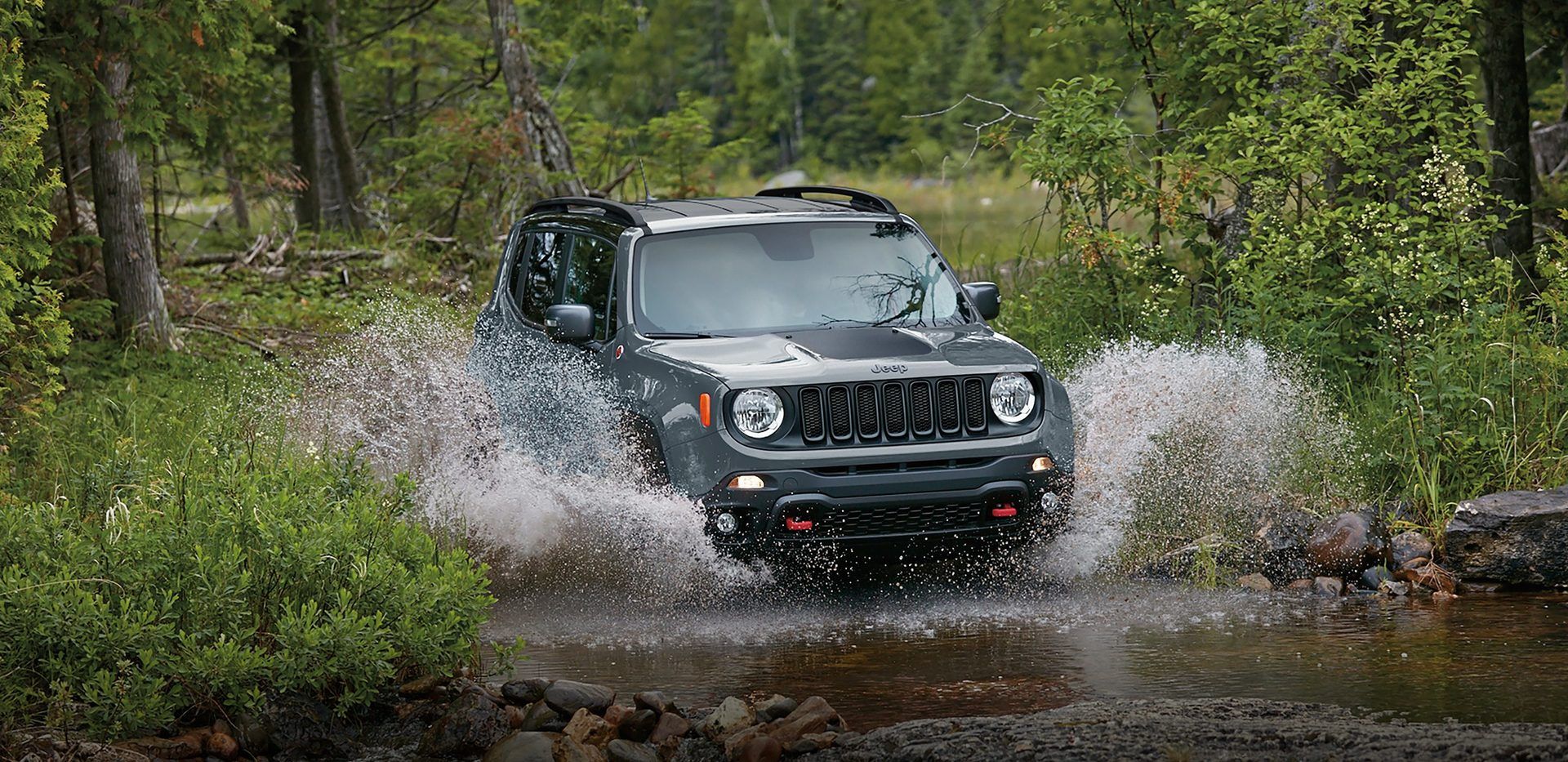 The Fantastic Jeep Renegade, Compass, and Patriot
The Renegade is the latest addition to the Jeep family – with all the modern features you could hope for to get you out on an adventure without compromise. With best-in-class 4x4 capabilities available on the Renegade, an all-new Compass model, and the fantastic features on the Patriot – you'll have plenty to investigate, test drive, and consider when you work with the team at Hanover Chrysler. Let's get you back on the road with the determination that goes above and beyond the call. Find out more about our SUVs for sale for Walkerton drivers today at Hanover Chrysler!
The Impressive Wrangler Options for Walkerton Drivers
Arguably one of the most popular SUVs for sale ever to hit the road, the Wrangler is definitely worth your time. With options that range from available hard or soft tops, removable doors, and best-in-class 285 horsepower standard across all the models, you're going to get more from this fantastic Jeep. With the most capable SUV classification added by a 4x4 of the Decade award from FOUR WHEELER magazine, well, this is definitely a vehicle that makes a lasting impression!
The Exceptional Cherokee and Grand Cherokee
The Jeep line has always had its heroes – and with the recent generation those heroes are unquestionably the Cherokee and Grand Cherokee. With the Cherokee offering segment-first 9-speed automatic transmission, impressive fuel economy and available best-in-class towing, you can be sure you're in good company. Then we have the most awarded SUV of all time – the Grand Cherokee. With most available horsepower in its class – at 475 – and rated as the most capable 4x4 in its class, there's going to be some great adventures ahead throughout Walkerton, Ontario, and beyond with these vehicles! Find out more at Hanover Chrysler today!
Discover a great dealership experience when you work with our team at Hanover Chrysler. It isn't just our great inventory that should inspire you – it's the people and the facilities that we offer. Our intention is to make you feel like family when you come to us for any of your automotive needs. Because we are a family owned business, you'll find the very best customer service a dealership can offer. As a small-town dealership, offering large-town prospects and opportunities; we want you know that you're going to find nothing but the best while at our store. You are important to us each and every one of us works hard to ensure that your visit to our dealership is a positive experience. Hanover Chrysler has a strong commitment to our community.Active participation in local events, sponsorship of sport teams and donations and fund-raising for non-profit organizations are some of the many ways we give back to the community. When you come to Hanover Chrysler, you should feel at home. We offer a delicious (not-so-secret family recipe) buttertart to anyone from Walkerton and beyond who purchases a vehicle from us! You're going to love what awaits you at our store! Let's get you all the resources you deserve – today – at Hanover Chrysler!
I have purchased my last two vehicles from Mitchell and the team at Hanover Chrysler and have nothing but great things to say about them! They all ways made me comfortable during the buying process and explained everything. Would definitely recommend them!
Amelia K.
I bought a 2014 jeep Cherokee from Kevin, his sales services was wonderful and they were able to find the jeep I wanted with specific colour and options. Over the last two years I have had some warranty issues and the service department was able to fix the issues and I now feel I have a reliable vehicle for my family.
Cortney W.
My story starts 2 years ago when I purchased an 09 Jeep from them. Customer service and experience was great. I moved 6 hrs away for work the following week. As my Jeep endured natural wear and tear, I needed extensive work done on the front end. I cross referenced the quote I was given 6 hrs away at another dealership with Hanover's and the quote Hanover supplied me was $300 cheaper. Their honesty in this situation was extraordinary. This past week, I simply went in for an oil change on said Jeep. After the oil change, we noticed that the parts weren't put in correctly by the other dealership but Hanover honored the warranty and within 2 days I was back rolling. On top of all this, they even shuttled me back to my home (45min) away and even picked me up to come get the Jeep. Never had this happen before. Long story short, 5 out of 5 stars across the board. From the welcoming service department to the mechanic and the gentleman that supplied the shuttle. I raise a cold one to you Hanover Chrysler, Cheers.
Brandon C.